Digital all the way – Implement Consulting Group's Digital Workplace
Change isn't easy, it's said. That's probably an understatement. Actually, change can be downright frustrating and awkward. Like driving on the left side of the road when you're used to right-hand traffic. Or having to walk in really high heels when you're a loyal practitioner of barefoot fashion, and even the other way around.
So it's no less than a brilliant piece of work Implement Consulting Group has done making it fun for their 700 employees to change their habits of work.
At our Wizdom Conference 2018, taking place in Copenhagen's historic Tivoli Gardens, Morten Rye Christensen, CIO in Implement Consulting Group, presented their digital workplace just launched in late 2017.
Digital all the way
Looking at the result, it's not hard to imagine employees getting excited over this. This was a demonstration of an advanced and well-integrated digital workplace, not only living in visions and hopes, but unfolded in real life.
Built on Office 365, the solution is a contemporary IT platform bringing internal communication, processes, collaboration, management of internal training and projects together in one single platform that even integrates perfectly with Outlook. "You can access everything you need from everywhere and every device", as Morten Rye Christensen puts it.
The built-in project portal is a solution in a class of its own
With more than 650 consultants servicing private and public companies worldwide, Implement's work is project-based. As Implement registers and invoices all clients in ERP, an integration with this system was made.
Now, whenever a new project is initiated, a project site is created. These project sites enable consultants to collaborate, share documents, and access important information and KPIs about each project.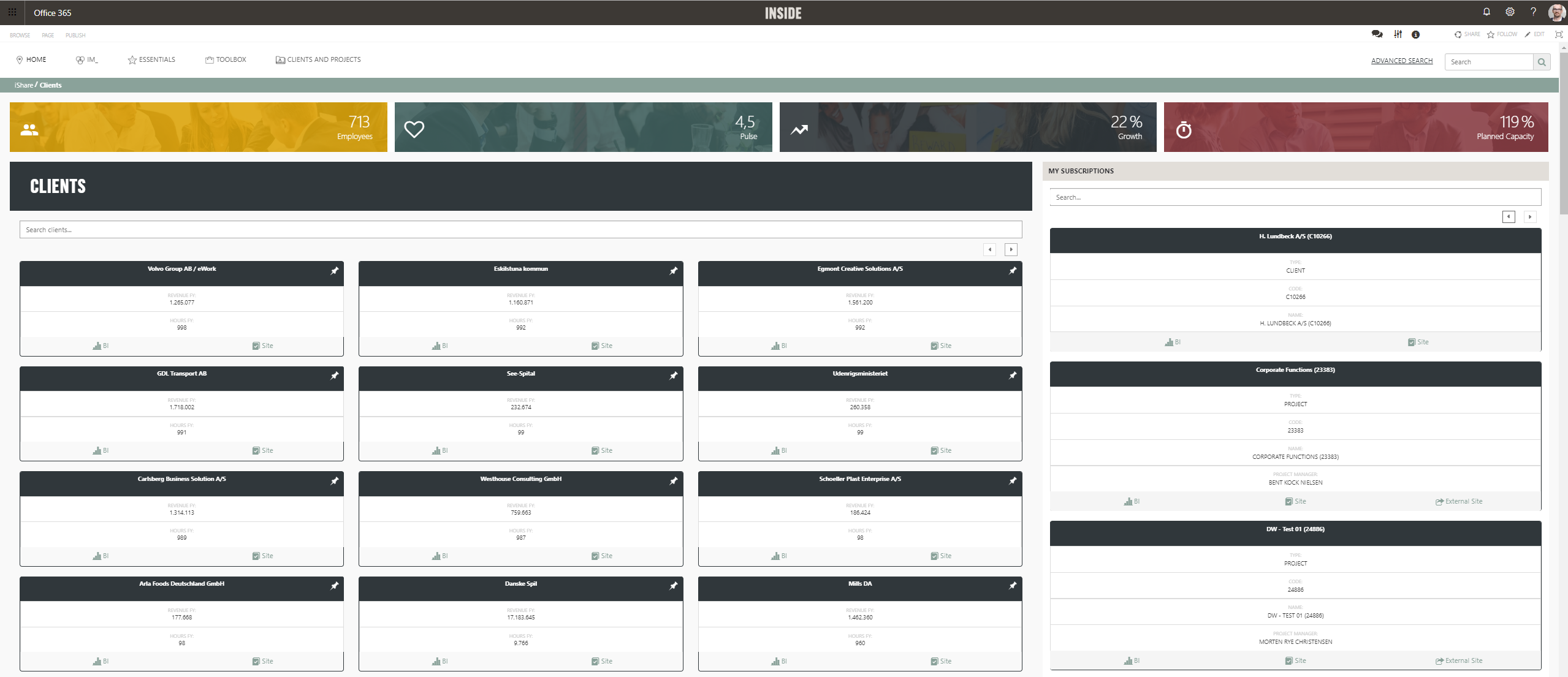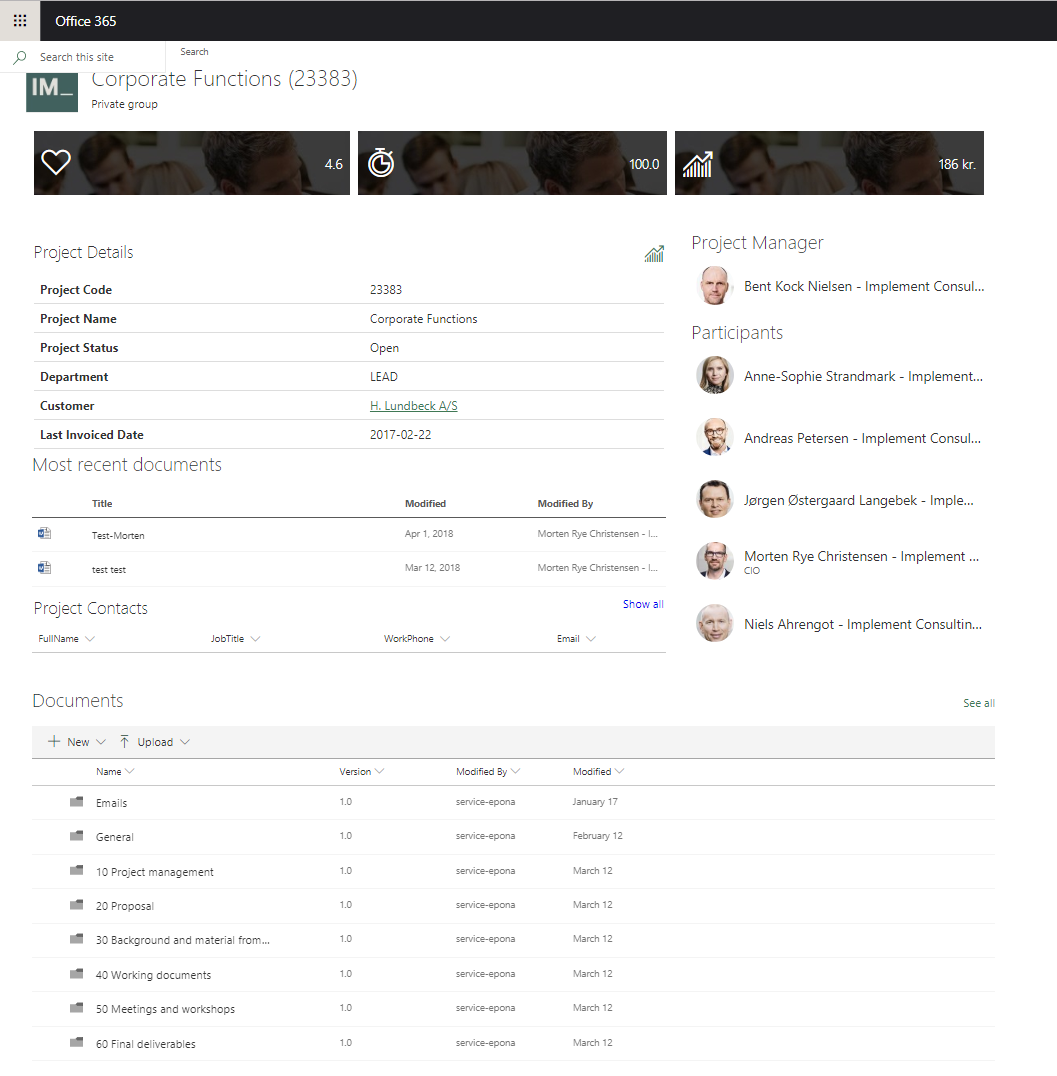 All consultants can reach the projects, they are engaged in, from the intranet using either a desktop or a mobile app. This has brought projects closer to the consultants helping them engage optimally with clients.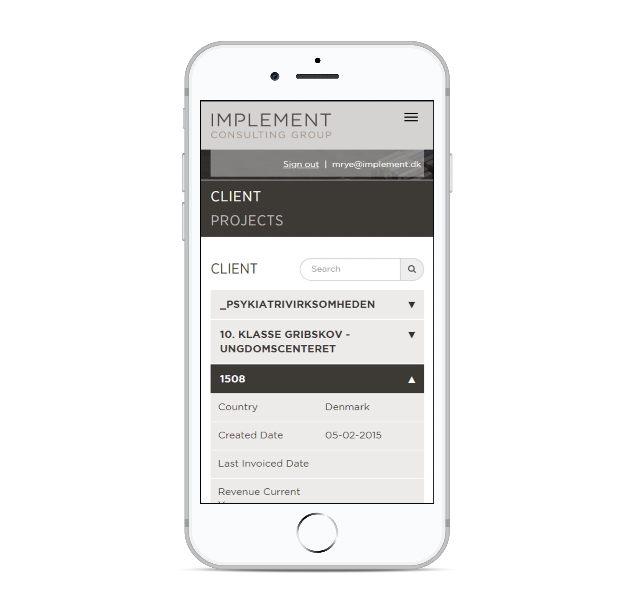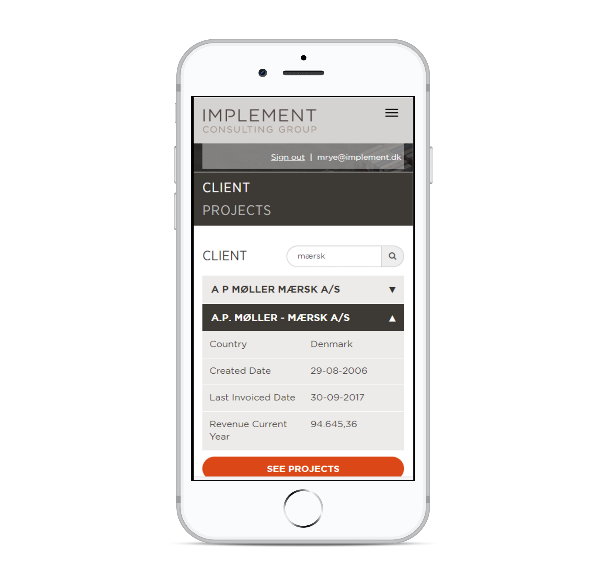 Another example of how the new platform supports Implement's employees in doing their work is the integrated training portal
All employees in Implement's different offices in Copenhagen, Zurich, Stockholm, Malmo, and Oslo undergo internal training sessions several times a year. The training platform, where event sign ups, communication, and cancellations are readily available, makes it easy for training administrators and attendees to manage the administration around events.
Implementing new ways to work
Now, a new digital workplace is not just a new tool. It's change, new habits of work.
In the case of Implement's employees, they had to adapt to a new way of searching information, sharing files, saving files, finding files, writing proposals, working in teams, creating projects, registering project information. Basically, new ways to carry out most tasks done in a digital environment.
Who could be better at supporting employees in this change than Implement themselves who is market leader within creating change with impact?
Not only did a launch campaign with videos create awareness about the new digital workplace and how it improves workflows. Using their own expertise knowledge, Implement helped their own 700 employees adopt the new ways of working by using tactics of game based learning.
The Bond-style video introducing training sessions in the new digital workplace
Three hours of training split into one-hour sessions took Implement employees, group by group, through the new tools available. Combining a board game with exercises and challenges on the new Wizdom platform, employees were competing in groups while getting familiar with the new ways to perform work tasks.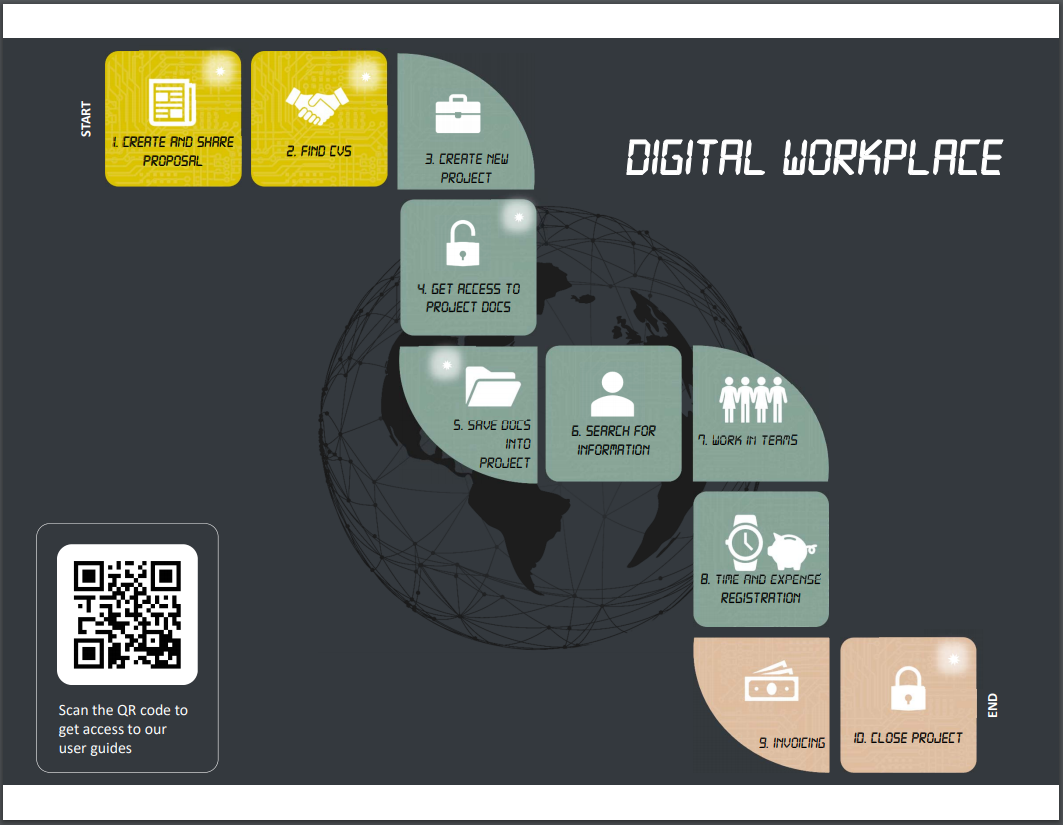 The impression left is a strong feeling that this change of work habits will be much more fun and pleasant for Implement's employees than most changes are.
Where to next?
Catch up on more Wizdom blog posts